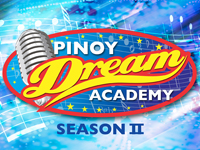 After the success of Pinoy Dream Academy Season 1, the Philippines is now ready for a brand new season.
A new headmaster, a new host, new teachers and lessons, and of course new dreamers.
From as much as 10,000 hopefuls who auditioned all around the Philippines, and some parts of the world, 32 dreamers were chosen. These 32 will undergo a final audition in front of the new headmaster, Ryan Cayabyab and the other PDA mentors, Joey Reyes, Kitchy Molina and Monet Silvestre, and will be trimmed down to the final 15 scholars who will enter the Pinoy Dream Academy for further vocal and performance training.
PDA paved the way for the success of Yeng Constantino, season one's Grand Star Dreamer. Now she has two albums under Star Records, Salamat and Journey. Other co-scholars, like Jay-ar Siaboc, and Ronnie Liang, to name a few, have also continued their dream outside the Academy, and is now busy not just with singing, but with their acting careers as well.
This season, let's follow the new scholars in their journey inside the prestigious Academy to become the next Grand Star Dreamer.